My speaches, coachings and seminars will create real added value for your company because they will …
→ inspire you to step away from conventional ways of thinking and break new ground.
→ sharpen your senses and open up fresh perspectives and views.
→ encourage innovation and uncover creative potential.
→ inspire energy and motivate you to think differently.
→ give you the courage to open yourself up to change and to experiment.
→ help you to master challenging times with confidence
All this, with plenty of substance, faultless reasoning, vivid examples and high entertainment value!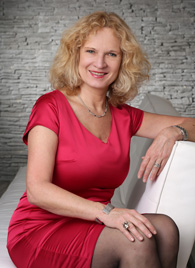 "The true purpose of art is not to create beautiful objects. It is a method of understanding, a way of penetrating the world and finding one's place in it."
Paul Auster
(American author)

Book me
Do you want to learn more? Are you interested in forward-thinking suggestions for lasting business success?
Book me as a speaker or a coachand you will receive valuable, practical insights, which are presented in an engaging way and leave a lasting impression!
Contact